Window Sills are a Very Important Part of the Masonry on Your Home.
The main purpose of the window sills on your home are to drain water away from the masonry work below the window sills.
When the rain water runs down your window and on to the slope of the window sill, the window sill moves the water away from the face of the brick under the window. On properly installed window sills, a strategically placed drip edge 5 cm from the face of the masonry wall forces the water to fall to the ground without touching the brick under the window.
Water getting behind or below the window sill can cause a variety of problems, including;
Rotting of the wall behind the window sill,
Spalling of the brick below the window sills,
Inadequate protection for the window frame.
All of this compromises the integrity of your home.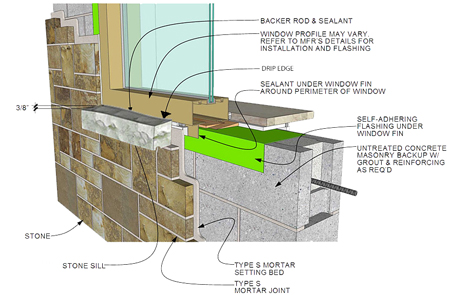 What Causes Window Sill Damage?
Most of the damaged window sills in the Ottawa area are caused byhome builders choosing to use bricks instead of a proper stone or metal a window sill. Bricks are porous and absorb water. This eventually leads to spalling and the deterioration of the mortar between the bricks on the window sill. Brick window sills require a significant amount of maintenance, and don't properly draw water away from the window and masonry below the window. The reason why brick may be used for a window sill is because of cost. Although the relative price of installing a proper stone or metal window sill is small compared to the cost of a replacement of a window sill, home builders cut corners by using readily available bricks instead of ordering a proper window sill.
Oxidizing of steel re-bar in concrete cast window sills is another problem. When steel re-bar in window sills don't have enough concrete surrounding it, moisture can sometimes penetrate the concrete and oxidizes the steel re-bar. As the steel re-bar oxidizes it expands, causing the concrete to crack the window sill, subsequently allowing more water to enter
Maintenance of Window Sills
The most common of problem with window sills is maintenance. All window sills need regular maintenance. From a one piece precast window sill, multi-section window sill or a hand carved Indiana lime stone window sill, maintenance is key. The masonry joints around the window sills are continually being soaked and weathered. Re-pointing around this area will save you thousands of dollars.
Moisture behind window sills causes serious problems for a homeowner. Rot sets in behind the wall, and mold begins to appear. As you see the symptoms of rot around your window on the inside of the home, it's too late, a major repair is already necessary.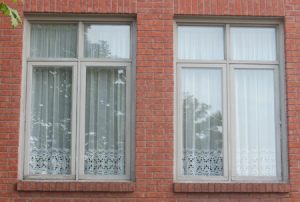 Brick Window Sills require constant maintenance and don't draw water away from the house.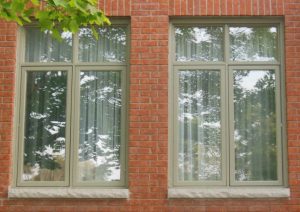 The Same Window With Proper Stone Sills installed. These Window Sills draw water away from the window and brick below.